High Impedance DC Kilo-Volt Meter with Peak Hold
A mandatory instrument needed at the entrance of all ESD-free areas.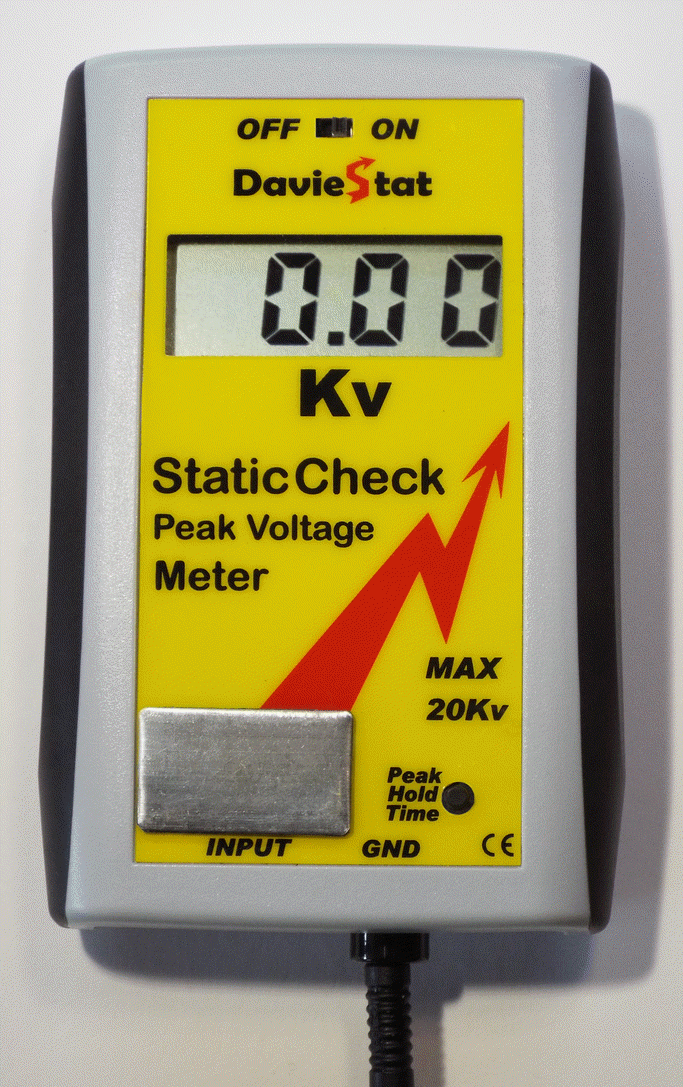 If you need to protect electronic items from Static Electricity whilst your workforce are handling them, then you need the DavieStat Static Meter.
It is a simple, easy-to-use unit that indicates the static voltage present on a person.
This is particularly important when wearing anti-viral clothing, especially gloves.
A unique feature of the DavieStat Static Meter is the Peak Hold function which indicates the highest reading for an adjustable time, to assist in monitoring by supervisory staff.
This unit can be held in the hand, on a bench or mounted on a wall using the holder provided, near the entrance to static free zones.
FEATURES
Quick visual display of static from 0-20 Kilo-volts on the LCD display for positive or negative voltages.
Simple touch to test shows how much static a person
is carrying in Kilo-volts.
Shows

Peak Voltage value

for an easily adjustable time period, push button resets the peak value to the current voltage reading.
Ultra-high input impedance of 100 GΩ (10

11

Ω)
Low battery indicator shows on LCD when battery
voltage is low.
Micro-power circuit gives

long Battery life

(9V PP3)
Compact

design, soft sided case.

Supplied with transparent plastic

Wall Mounting

holder.
Audits any potential static generator or dissipater
e.g. garments, gloves, clothing, floor mats etc.
SPECIFICATION (Both Versions)
Easy-to-read 3½ digit LCD display showing voltage from 0.00Kv to 19.99Kv (10v resolution)
Power Supply: 9-volt PP3 alkaline battery, with easy-fit battery compartment.

Peak hold time adjustable from 0 to 200 second (approx)

Battery Life: Approximately 12 months ALWAYS ON (or 3 years at 8 Hrs/day)

Battery operating Voltage: > 5.5 volts to 9 volts, Low bat indicator shows below 6 volts

Battery Voltage is displayed on the LCD display briefly at switch-on. (4.0 to 9.9 v)

Input Resistance

100 GΩ

± 5%

Temperature Range: Operation 5°C to 40°C (40°F to 100°F)

Storage 5°C to 85°C (40°F to 185°F)

Relative Humidity: 10% to 90% (non-condensing)

Accuracy: ± 5% ± 2 digits

Size

124 x 80 x 34 mm.

Weight

: 150

grams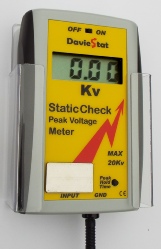 For your protection, buy with PayPal
UK only special offer* £320 (+ VAT = £384)
24 Months return to base Warrantee
14 Days money back if not satisfied
For your protection, buy with PayPal
UK only special offer* £330 (+ VAT = £396)
24 Months return to base Warrantee
14 Days money back if not satisfied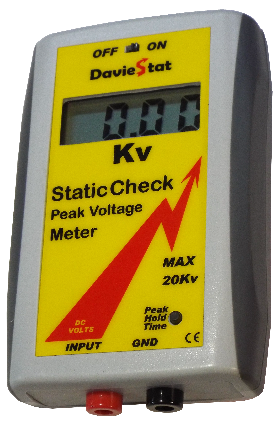 Supplied complete with Wall Holder
Supplied complete with Wall Holder